Server Racks and Network Racks
---
Server Racks
We are identified as the most competent Manufacturer and Supplier in India for offering a wide gamut of Server RackThese server racks dealt in by us are manufactured using premium grade raw material and latest technology in sync with the set international standards at vendors end. In addition to this, our offered server racks are highly appreciated by our clients for their enormous features that are associated as per the requirements of our clients and are made available at reasonable prices.
Server Rack: Height Available 6U, 9U, 12U, 15U, 17U, 20U, 24U, 27U, 30U, 32U, 36U, 42U, 45U, 48U, 50U
Width Available 600MM & 800MM
Depth Available- 1000mm -1100mm-1200mm
Raw Material- CRCA & GI
Construction- Welded and Dismantle ( as per Requirement)
Sheet Thickness 1.2mm For Load Bearing angles 2mm
Color- Light Grey/off White RAL 7035 and Black RAL 9005
Frequently Asked questions (FAQ) on Server Racks?
Rack Solutions is often asked by our customers, from small office IT departments to large data centers, what they should consider when purchasing racks and cabinets.
Q: What are the most important features buyers need to look for when purchasing new data center racks and cabinets.
A: There are several features that buyers should look for when purchasing new data center racks and cabinets. The most important include size of the cabinet/rack and airflow. Buyers should take into consideration the height, depth and width of the cabinet before making a purchase. Spending a little time researching this information can save tremendous expense down the road when adding servers and other equipment to a data center facility.
Q: What are some of the most common mistakes buyers make.
A: A common mistake buyers can make when procuring cabinets for a DC, is failing to adequately layout out the floor plan to determine the size of the cabinets required. If planned accordingly, buyers can maximize the square footage per rack by reviewing the floor plan layout prior to purchase, and choosing cabinets that have just the right width and length to maximize space and efficiency.
Server Racks
RAckOm offers a cost effective server rack developed, designed and engineered for Networking, server room and datacenter environments. these server cabinets are fully compatible with all brands of Servers like IBM, Dell, HP, Sun, Cisco, Juniper, Compaq .To achieve optimum versatility within the server rack, users can set multiple depths throughout the cabinet by adjustable 19" mounting rails mounted on heavy duty side supports. Detachable side panels provide ease of access and convenient post installation maintenance. Optional glass and perforated doors on front and rear steel perforated doors enable optimum airflow within the Rack.

Racks thickness gauge 20 & 18 Depth Channels and Equipment Mounting angles 14 gauge and 10 gauge

Height Available : 12U,15U,17U 20U 22U 24U 27U 30U 32U 36U 42U 45U

Width: 600mm, 800mm : Depth Available 600mm 800mm 1000mm 1200mm

Standard Accessories : Cantilever Tray, Fix Trays, Fan Housing Units, Power Distribution Unit, Equipment Mounting Hardware, Cable Managers Keyboard Trays, Sliding Shelf , earthing kit

Usability : For Housing Rack mount Servers, Tower Servers , Computer Networking Panels VOIP, CCTV DVR, Audio Visual Equipments, TV Radio Broadcasting Equipments, Testing Equipments and other 19" Electronic and Telecoms Equipments

Construction : CRCA Steel 1.2mm thickness, Equipment Mounting angles 2.0 mm thickness, Front Glass & full Perforated Door Option, Rear Steel Perforated door, Side detachable panels with perforation , four heavy duty Equipment mounting angles, 4 Set heavy Duty depth channel, cable entry cut on top and bottom panels, four fan options

Static Load Capacity : up to 550 - 650 Kg

Standard Specification:
RAckOm 42U Server Racks 600 mm Width x 1000 mm Depth With Front Glass Door
Back Steel Door/ Side Detachable Panels/ Wheels
Fan Housing Unit 4 Fan
Keyboard Tray Sliding and Rotary
Monitor Shelf
Additional Equipment shelf
Cable Manager Horizontal
Power Strip 12 Socket 5 AMp
Mounting Hardware
Features
Sturdy construction
Excellent finish With RAL 7035 Color
Beautiful appearance
Additional Information:
Item Code: RSFS0042-003
Pay Mode Terms: T/T (Bank Transfer),Other
NETWORKING RACK
We are Manufacturer, Supplier & distributor of Network Racks & Networking Racks. Our product range also comprises of Server Racks and Wall Mount Racks.
RACKOM 18U Networking Rack 600x800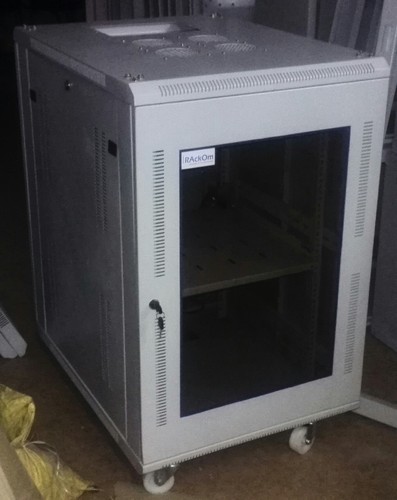 RACKOM 18U Floor Standing Networking Rack having Depth of 800mm is a ideal Cabinet For Housing Firewall/Seitches/Jack Panels/Patch Panels/DVR/ Amplifire and many other Products having depth of 700mm
NETWORKING RACK WALL MOUNT
Being a renowned organization of the market, we are involved in Manufacturing & supplying an all-encompassing range of Networking Rackto our global clients. The racks offered by us are available in various dimensions & sizes and can also be customized as per the client's specifications. These racks are manufactured using topmost grade raw material and sophisticated technology in compliance with certified industrial norms at vendors end. In order to ensure the defect free range, these racks are tested against various parameters of quality set by the international industry.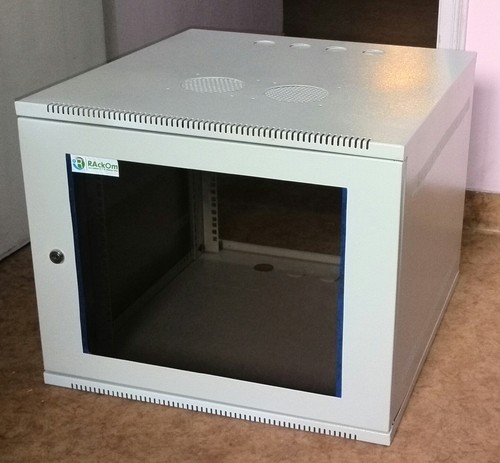 Wallmount Racks for Networking/DVR/Audio Visual Equipments
Wall Mount Racks (Single Section & double Section)
We are engaged in manufacturing/supplying a comprehensive range of Wall Mount Racks. These wall mount cabinets have multiple features including, locking front doors with tempered glass so you can see your network equipment without opening the door. all wall mount cabinet doors are lockable and secure. These wall mount cabinets are convenient and quick to mount on the wall.

Height available : 2U 4U 6U 9U 12U 15U

Width : 550mm & 600mm ( Internal 19" )

Depth Available : 400mm 500mm 600mm 650mm

Standard Accessories : Cantilever Tray, Fix Shelf, Cooling Fans, Power Distribution Unit, Equipment Mounting Hardware, Cable Managers, Blank Panels

Usability : Computer Networking, DVR equipments, Audio Visual Equipments, TV Radio Broadcasting Equipments and other 19" electronic, telecom and power equipments Construction : welded CRCA Steel 1.0mm thickness, mounting angles 1.6mm, top and bottom cable entry with side perforation , 2 Fan provision, integrated side panels with perforation
Static Load Capacity : up to 30 Kg
Standard Specification:
RackOm 6U Wall Mount Rack With Front Glass Door with Key lock
Rear Open For Wall-mount Provision
Cable Manager Horizontal
Mounting Hardware
Power Strip 6 Socket 5 AMP
Fan Housing Unit 1 Fan/2 Fan Optional
Features:
Rigid Structure With Long lasting Powder Coating
Innovative designs, Looks Beautiful hanging in Networking Room
Optimum performance
Additional Information::